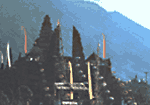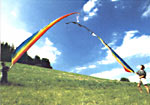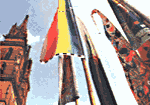 Umbul Umbul - from the dragon's tail to the Rainbow Project. Umbul Umbul, the Balinesian word for dragon's tail, means the long, narrow flag that is an important element of traditional ceremonies, in Bali they proclaim the presence of the powers of creation.
In 1989, Thomas Bertschi (designer and artist) printed twenty white Umbul Umbuls in the colours of the rainbow, taking them back to Switzerland as Rainbow Umbul Umbuls for the visual announcement of the Planetary Partnership congress taking place at Interlaken. This was the start of the Umbul Umbul Flags' journey all over the world.
The universal symbol of the rainbow has become the object of intense artistic examination. With the japanese artist and co-initiator Moko Sato arises the rainbow project. A network has grown to exchange ideas, experiences, knowledge and talents - locally, regionally and around the world. Between 1991 and 2009, Thomas Bertschi, Paul Christ and Pema Lobsang are the responsible Rainbow Project team.
Current co-players
In Switzerland: Alex Blaser, Dominic Bürki, Patrick Hagmann, Charles Huguenin, Anveshi Boten. In Nepal: Salil Subedi, Raman Maharjan, Rajan Vidhyadhar. In Bali: I Wayan Gede Mardika.