Swayambhunath Partnership

In Kathmandu there are a lot of children, who want to go to school – children of Tibetan refugees and Nepalese children from poor families! – Are there people among us who can help to make this dream come true?
Sponsors can opt for a sponsorship scheme on the basis of personal record cards, whereby they commit themselves just for a couple of years or they can choose a child, who they undertake to support for 8 to 10 years (nursery school, primary school).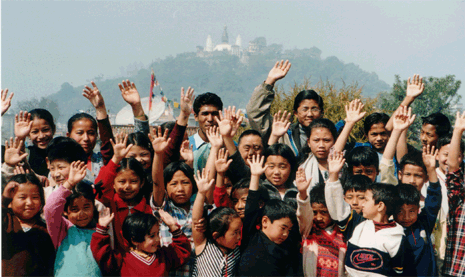 Children of the partnership project. In the background the Stupa of Swayambhunath.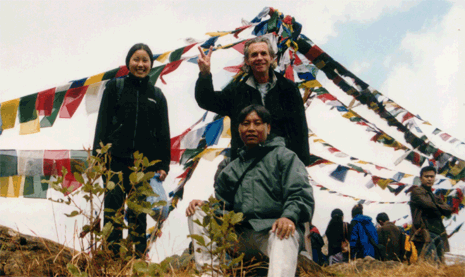 Padmasambhava Cave 2002: Tashi Dawa, Tomas Bertschi and Sonam Dolma, former spnsored child. Sonam got from her ex-sponsor further help for her studies.
The Tibet community of Swayambhunath in Kathmandu stretches from the Great Stupa and its neighbourhood as far as the banks of the River Vishnumati. Since the Tibetan border is close by, a constant stream of refugees means that the community is steadily growing. Even to satisfy their basic human needs many families have to depend on the Tibet community for support, but it is not possible to raise sufficient funds to provide their children with an elementary education.
Even Nepalese families seek help to enable their children to attend school. For a place at a school every child in Nepal must pay annual school fees .
In 1996 Thomas Bertschi met Tashi Dawa, chairman of the Tibet community of Swayambhunath in Kathmandu. They became good friends. From this came the idea of a bridge project between Switzerland and Nepal. One aim of the project is individual person-to-person help, where each sponsor is associated with the child he is supporting. The help should involve the minimum of administrative effort. Thomas Bertschi co-ordinates the information between Nepal and the sponsors. Tibetan and nepalese friends take personal responsibility for the selection of the children and the efficient use of funds in Nepal.
Since 1997 Thomas Bertschi has been travelling once a year to Kathmandu to discuss the continued development of the project on the spot.
The sponsoring project completes the circle: an inspiration on the Stupa of Swayambhunath in 1972 led Thomas Bertschi to his present way life and working method. With Tashi Dawa, his family and the sponsors, some energy can flow back to keep alive the source of this inspiration.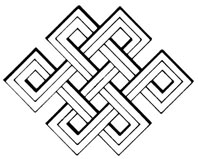 For further information please contact us:
thomas.bertschi@bluewin.ch